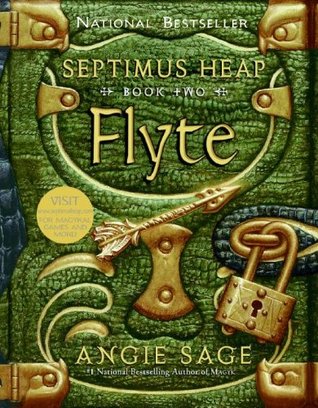 My name is Simon, and I will be the apprentice for the great ExtraOrdinary Wizard DomDaniel once I deal with my youngest brother Septimus. Of course, DomDaniel was killed, but I will help him arise from his bones.
It angers me that Septimus popped up after everyone thought he died shortly after he was born, and it infuriates me that Marcia made him her apprentice.
I snuck into the Palace as part of my plot for revenge, but I didn't intend to kidnap Princess Jenna, my adopted sister, while I was there. I underestimated her and she managed to escape, but I can find her anywhere with my Tracker Ball. I have mastered the ability of Flyte, and none of them know how powerful I've become. It's only a matter of time before DomDaniel and I take over.
You need to read Magyk before reading this book. The plot in Flyte seemed to move more quickly, and it had more tension. There were threats to Jenna, Septimus, the Dragon Boat, and others, so someone was always in trouble. A new "character" was introduced when a dragon was born, although I don't think it was needed. It added some amusing moments, but it didn't add much to the major conflicts except for one chase scene. I'm also not sure why the author had Jenna kidnapped, since she escaped fairly quickly and easily. However, it was ironic that Simon, the eldest brother to Septimus and Jenna, became the main antagonist. His jealousy, envy, and ambition have consumed his emotions, and he's become relentless. In contrast, the goodness and positive mindsets of Jenna and Septimus always provided hope. It's an entertaining series, and I recommend you give it a shot.