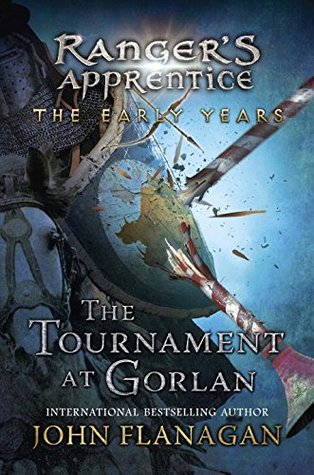 Halt is not an official Ranger yet, and Crowley has been kicked out of the corp by Morgarath. Morgarath plans to take over the kingdom by controlling King Oswald. Rumor has it the king's son is looting towns and creating terror, so he may be disowned by his father. Halt and Crowley intercept one of Morgarath's messengers and discover twelve Rangers have been fired, and the king's son is actually being held hostage. They recruit these Rangers to rescue the prince and protect the king. However, Morgarath has forced the king to make him the heir to the throne, and the Rangers have no proof of his evil doings. Morgarath plans to make his move during the Tournament at Gorlan, so time is running out.
Halt is a main character from
The Ranger's Apprentice
series, and many of the other characters were in that series too. I'm not sure how Flanagan does it, but all of his books capture my interest. There's a mystique surrounding the Rangers, and the plots include a good amount of adventure. As in other books, the Rangers are greatly out-manned but still figure out ways to win. This plot is unusual, because the Rangers are trying to save the day, but some citizens see them as criminals. All of the characters are adults in this book, while the main characters are kids in Flanagan's other books. This book has characters acting as bullies, and I like how the Rangers face them with quiet confidence. I know it's just a matter of time before the bullies go too far and get their butts kicked. This plot doesn't completely get rid of Morgarath, so it leads right into a sequel. I highly recommend this book,
The Rangers Apprentice
series, and
The Brotherband Chronicles
series. They're some of the most entertaining books I've ever read.